CF-101 Voodoo
---
The CF-101 Voodoo served with the RCAF between 1961 and 1984. Designed by McDonnell Aircraft, as part of the 'Century Series', it first flew in 1954. Voodoos, capable of over 1,800kmph, it was used as an interceptor aircraft to deliver nuclear weapons to defend against air attacks during the Cold War.
The Museum's example was flown to Halifax in February 1985. It served with 416 Squadron, based at CFB Chatham, New Brunswick, and at the time of its retirement was painted in a commemorative 416 sqn scheme to help celebrate the 60th anniversary of the RCAF.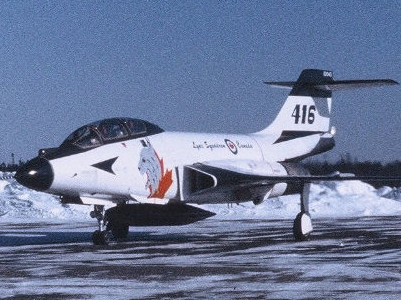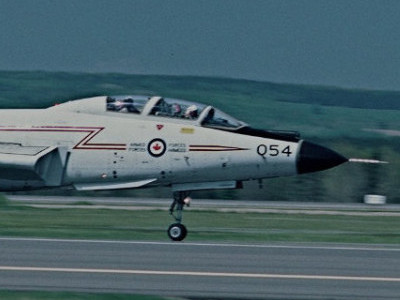 Lynx One Voodoo Restoration
Leslie Blair was the driving force behind the restoration project of our very own Lynx One Voodoo, something that our board of volunteers has been wanting to do for a long time, but with her help and lead things finally came together.
This is her story of how it all came about.
It took me three years to find the time in my schedule (and to work up the courage) to contact the Atlantic Canada Aviation Museum about the potential Lynx One Voodoo Restoration Project.
That's over 2,000 times that I drove by the aging 416 SQN artifact on my way to and from work, watching it slowly corrode and weather. It seemed like a big task and although I was confident in my ability to pull a great 12 Wing team together, it was the overall restoration that initially concerned me; after all the Voodoo retired before I was born and structurally it had seen better days.
In February 2017, after a NATO tour to Qatar, my father announced his impending retirement. Nearly 41 years in the RCAF as a Navigator, my father often told stories about the beginning of his career when he flew on the One-Oh-Wonder (CF-101 Voodoo) out of Chatham, NB. I think holding on to those memories was important since his father, my grandfather, was also a Navigator on the Voodoo; he passed away shortly after retirement, many years too soon. It was on the Tarmac in Chatham, NB that my father met my mother. She was an Airframe Technician proudly starting her journey in the CAF on the CF-101 Voodoo too. Both my mom and my dad have fond memories of the year that CF 101043 received the 'Lynx One' paint scheme, that was around the same time that they got married in a small church on the base and received their very own Voodoo flypast.
With my father's retirement quickly approaching, now seemed like the perfect time to sell my 'restoration project idea' to the ACAM and pray that they bite! The response that I received shortly after sending the email was "there is a god!" and it was easy to see that the team at ACAM wanted help as badly as I wanted to help.
The project pulled itself together in record time, I emailed my coworkers and targeted a few 12 Wing members with specific skill sets, launched a 'GoFundMe' campaign and raised $2,000.00; ordered t-shirts for the volunteers and donors and stickers for the Museum to hand out to the public.
We received a generous donation of expired primer from 'Sherwin Williams' within days of launching the project and naively awaited the return email from aviation companies looking to donate their expired paint - sadly that email never came! In the meantime, we sanded the aircraft on Sundays when the East Coast weather agreed to let us play and always ended the sanding session with a BBQ.
The project itself proved to be a lot of work, but we were expecting that. It was also a lot of fun; we made our own rules, we worked on our own terms, and everyone at ACAM always made us feel appreciated and welcomed every time we were there.
Leslie Blair - project instigator and coordinator!
With thanks to Sherwin-Williams for their kind paint donation and our fantastic restoration volunteers.
MCpl Leslie Blair IC 406 SQN
Avr Caylen Dorrington 2IC 12 AMS
Cpl Scott Lindsay ACS Lead 12 AMS
MCpl Andrew Hayes Treasurer 12 AMS
MCpl Scott Galbraith Logo / Lynx One Paint 406 SQN
MCpl Francois Verville 406 SQN
Cpl Nick Robbins 12 AMS
Cpl Sean Fanning 12 AMS
Cpl Josh Logan 12 AMS
Cpl Tiahitia Alegre 406 SQN
Cpl Adam Robbins 12 AMS
Avr Steve Huntington 12 AMS
Avr Joesph Toulany 12 AMS
Amy Linnington
Kingsley Blair