The story of Halifax's first aerodrome
The Halifax Municipal Airport was the city's first aerodrome built in 1931 and was located in the west end of the city. The airport operated until 1941 and was even used by Pan American Airways when it operated a route between Halifax and Boston. Unfortunately, civilian flights ceased with the outbreak of World War II and the land was converted to an army base and civil airport operations were moved to Shearwater in Dartmouth.
The land was later turned over to the city and in 1948, work began on the Westmount Subdivision where over 300 homes were built, and in honour of their war efforts World War II veterans were given the first chance to purchase these homes.
Saunders Park is an urban park located in the West End of Halifax on Chebucto Road, it serves the neighbourhood of Westmount and it is near here that the hangars and terminal building were located. The park is named after Donald Saunders whose contribution to aviation in Halifax is explained on a plaque under the memorial sculpture in the park.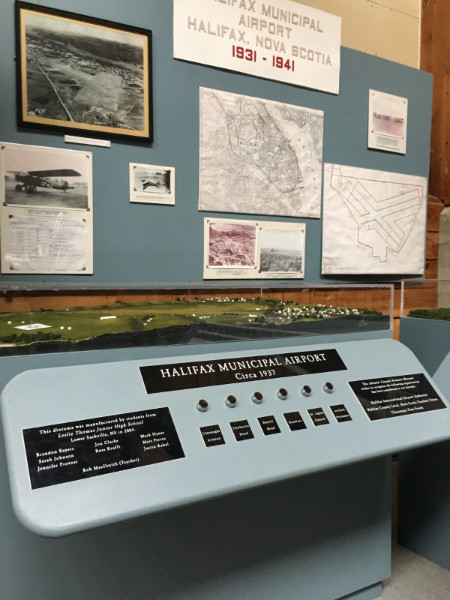 This park was created for the citizens of Halifax and is named Saunders Park to commemorate the life work of a pioneer in Canadian aviation. Wing Commander Donald W. Saunders was associated with the development of aviation in the Halifax area for many years. He was instructor to the Halifax Flying Club from 1928 to 1937, served with the Royal Flying Corps in the War of 1914-1918 and with the Royal Canadian Air Force in World War II. From 1931-1937 Wing Commander Saunders was Manager of the Halifax Municipal Airport. This park is located on a portion of the old airport. During the War of 1939-1945 this area was occupied by Military District Number Six Depot, Canadian Army.
Thanks to the efforts of the students from Leslie Thomas Junior High, who built this interactive exhibit, visitors to our Museum are not only afforded a bird's eye view of the airport as it was around 1937 but also have the ideal opportunity to learn about the important role this airport played in establishing aviation in Atlantic Canada.